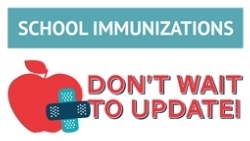 Immunization Update
Brenda Lawrence
Monday, August 13, 2018
The Maine Department of Health and Human Services and Department of Education have revised the Maine School Immunization Requirements rule to now include meningococcal meningitis disease.
The following changes are effective for the 2018-2019 school year for all students attending public or private school in the State of Maine:
*One dose of meningococcal vaccine MCV4 (serogroups A, C, W, and Y) is required for all students entering 7th grade.
*Two doses of meningococcal vaccine MCV4 are required for students entering 12th grade, with a minimum interval of 8 weeks between dose one and two.
If the first dose of meningococcal vaccine was administered on or after the 16th birthday, a second dose is not required.
For further questions, please contact the Maine Immunization Program at (207)287-3746 or (800)867-4775 or by email at ImmunizeME.DHHS@maine.gov