Tiger Food Pantry is open to all MSAD11 students and their families. Summer hours at 3-5 PM on June 20, 27, July 11, 18, 25, August 1, 8, 15, 22, 29. CLOSED July 4th. Please call 582-3150 x 3313 to place a food order so we can have it ready for you to pic, up curbside at Gardiner Area High School (40 West Hill Road in Gardiner). Thanks Mrs. Desoto and Volunteers!!!

REMINDER: MSAD11 will have an Early Release Day tomorrow (06/16/2022). GRMS & GAHS dismiss at 11:00, elementary schools at 12:00 pm. There will be no PREK classes.

The electrical power is out at the MSAD11 bus garage, the central office, and the schools. Students will be sent home on the bus, using the regular dismissal schedule. Please be aware - phone service is limited at this time.

The MSAD 11 Budget Meeting will be held tonight, June 7, 2022 at 6:00 p.m. at Gardiner Area High School in the Gymnasium.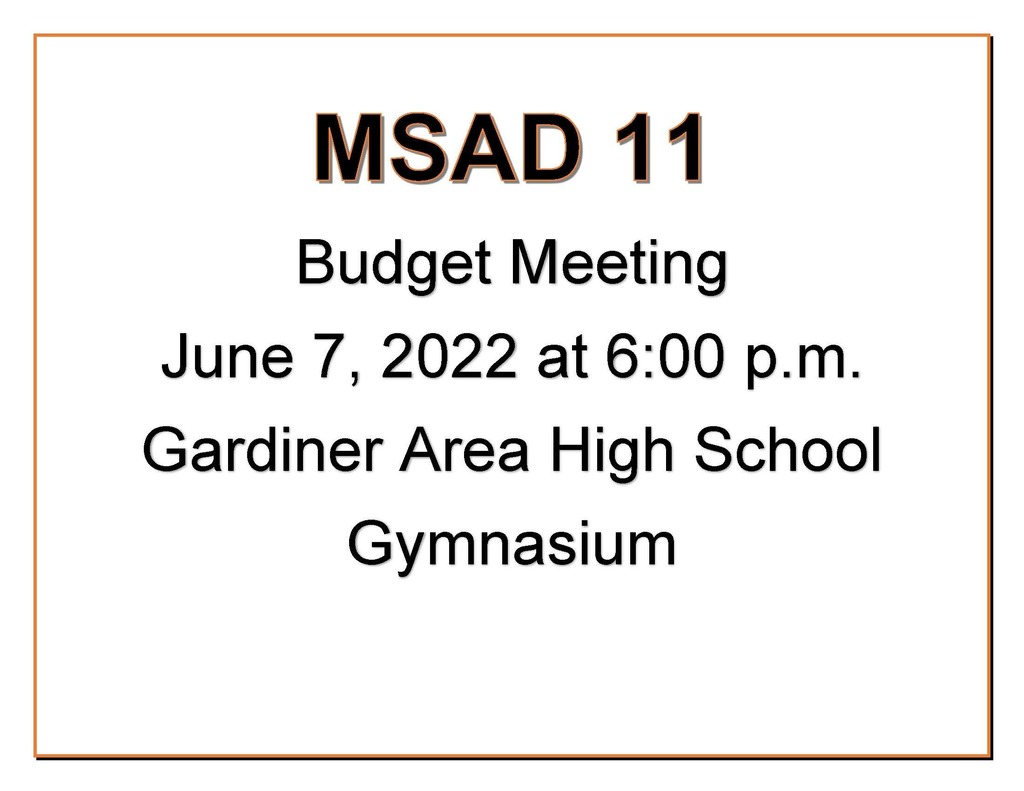 The MSAD 11 telephone system has been repaired and is now operational. Thank you for your patience and understanding.

MSAD 11 is currently experiencing telephone difficulties at this time. If you need to reach us please use email. We will send another notice when the phones are working again. Thank you for your understanding.

Good morning. There is a 2 hour delay and no am pre-k this morning in MSAD11.


Click the link to access a return from break COVID-19 update from MSAD11 Superintendent Pat Hopkins :
https://bit.ly/3HqtQqi


Pat Hopkins, MSAD 11 Superintendent: Unfortunately, it appears that I will need to cancel school today after all. While the main roads are fine, many of the side roads and the parking areas at the schools are extremely icy due to the packed snow from the last storm making it unsafe for our buses and vehicles to travel on. If you have to drive, please be safe.

Good morning. This is Pat Hopkins, MSAD 11 Superintendent of Schools. As of right now, there will be a 2 hour delay this morning due to the freezing rain and road conditions. I am monitoring the situation and if the conditions do not improve to safely place buses and vehicles on the road, this delay could turn into a cancellation. If this should happen, another message will be communicated to families and staff around 6:30 am. Thank you and be safe.


Due to the forecasted weather for tomorrow, Friday, February 4, 2022, there will be no school and the central office will be closed. Stay safe and enjoy your weekend.

Tonight's musical performance of Mama Mia is being rescheduled to Saturday at 1pm. Tickets for tonight's performance will be accepted for the 1pm performance on Saturday

Due to the current road conditions, there will be a 2 hour delay and no morning Pre-K in MSAD 11. As a reminder, breakfast is not served when there is a 2 hour delay. The Central Office will open at 9 am.

Click on the link to access important information from MSAD11 Superintendent Pat Hopkins:
https://bit.ly/3rk7mRs