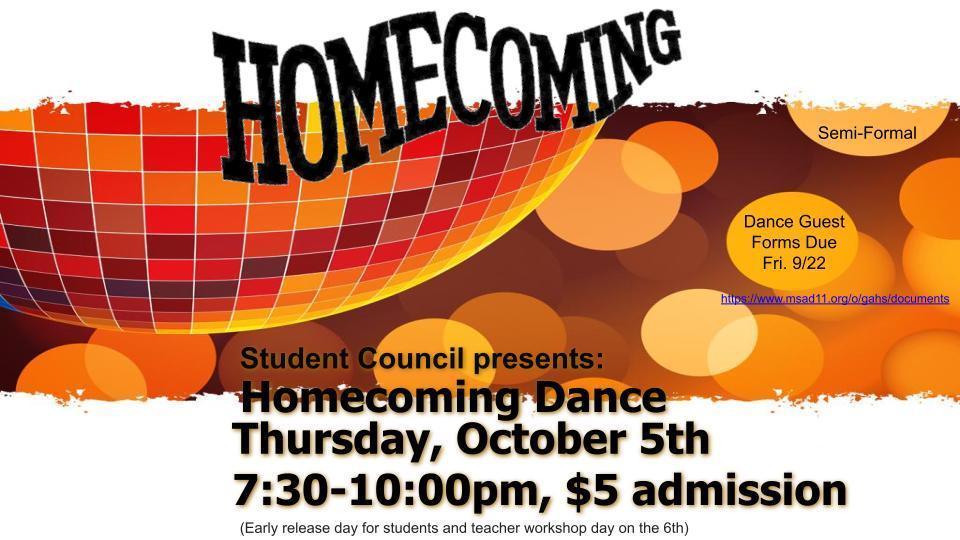 Angela Hardy, MSAD 11 Director of Instruction: Due to excessive heat in our classrooms and buses, MSAD 11 schools will be dismissed early today. Some areas have air conditioning, but a majority of our learning spaces do not. With the high humidity and heat conditions, Gardiner High School and Middle School will be dismissing at 11:00 a.m. and the Elementary Schools will be dismissing at 12:00 p.m.


2023-2024 School Budget Information: bit.ly/457lr8d

MSAD 11 Job Posting - Immediate Openings Positions Available: Child Nutrition Worker (4 hours per day) Gardiner Regional Middle School Child Nutrition Worker – Long Term Substitute (5 hours per day) Gardiner Area High School Date Position Available: Immediate Openings Qualifications: High School Diploma or equivalent and current CHRC authorization through State of Maine Department of Education. Description: Assist in the preparation of food for the Student Nutrition Program; Serves students and staff from the cafeteria serving lines; Assists in daily cleanup of the kitchen, service areas, and cafeteria tables. Physical Requirements: This position requires prolonged periods of standing and repeated motion; Requires stooping, bending, reaching, squatting, carrying, pushing, climbing, and kneeling; and the ability to lift 25-50 lbs. To Apply: Please complete the online application found on the MSAD 11 website.
https://www.applitrack.com/msad11/onlineapp/
Deadline for Applications: Open Until Filled

Pat Hopkins, Superintendent of Schools for MSAD 11: One of our graduates, Chase Fossett, recently passed away in a tragic car accident. A vigil has been organized by friends of the family for this Sunday, December 18 at 5 pm on Hoch Field. They have also arranged for a fireworks display to take place on the GAHS Field Hockey Field beginning around 6 pm. Knowing how impactful the noise from fireworks can be for pets, children, the elderly and others, I wanted us to get the word out to help make certain local residents know to take any precautions they believe necessary to ensure the safety of their pets and their entire family. Thank you for your assistance. Best, Pat Hopkins Superintendent of Schools

MSMA Student Accident Insurance Available Find out more by clicking on the image!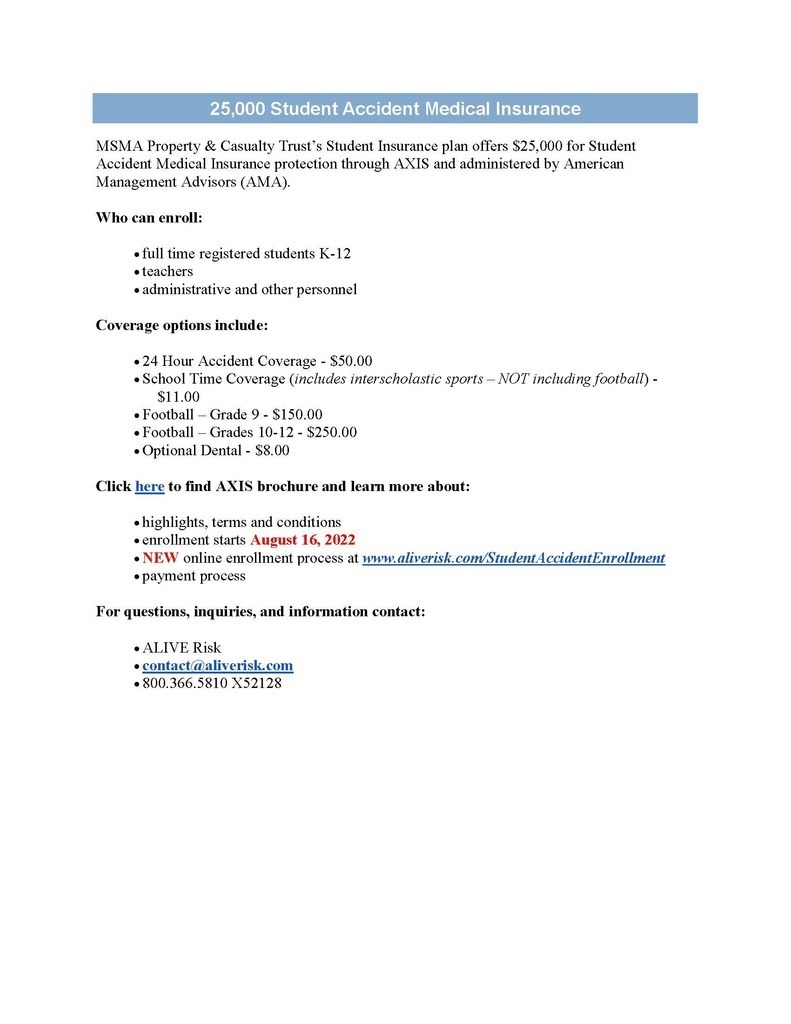 ​​Due to a staff shortage, the Central Office is closed to the public on Wednesday 8/10/22.


Tiger Food Pantry is open to all MSAD11 students and their families. Summer hours at 3-5 PM on June 20, 27, July 11, 18, 25, August 1, 8, 15, 22, 29. CLOSED July 4th. Please call 582-3150 x 3313 to place a food order so we can have it ready for you to pic, up curbside at Gardiner Area High School (40 West Hill Road in Gardiner). Thanks Mrs. Desoto and Volunteers!!!

REMINDER: MSAD11 will have an Early Release Day tomorrow (06/16/2022). GRMS & GAHS dismiss at 11:00, elementary schools at 12:00 pm. There will be no PREK classes.

The electrical power is out at the MSAD11 bus garage, the central office, and the schools. Students will be sent home on the bus, using the regular dismissal schedule. Please be aware - phone service is limited at this time.

The MSAD 11 Budget Meeting will be held tonight, June 7, 2022 at 6:00 p.m. at Gardiner Area High School in the Gymnasium.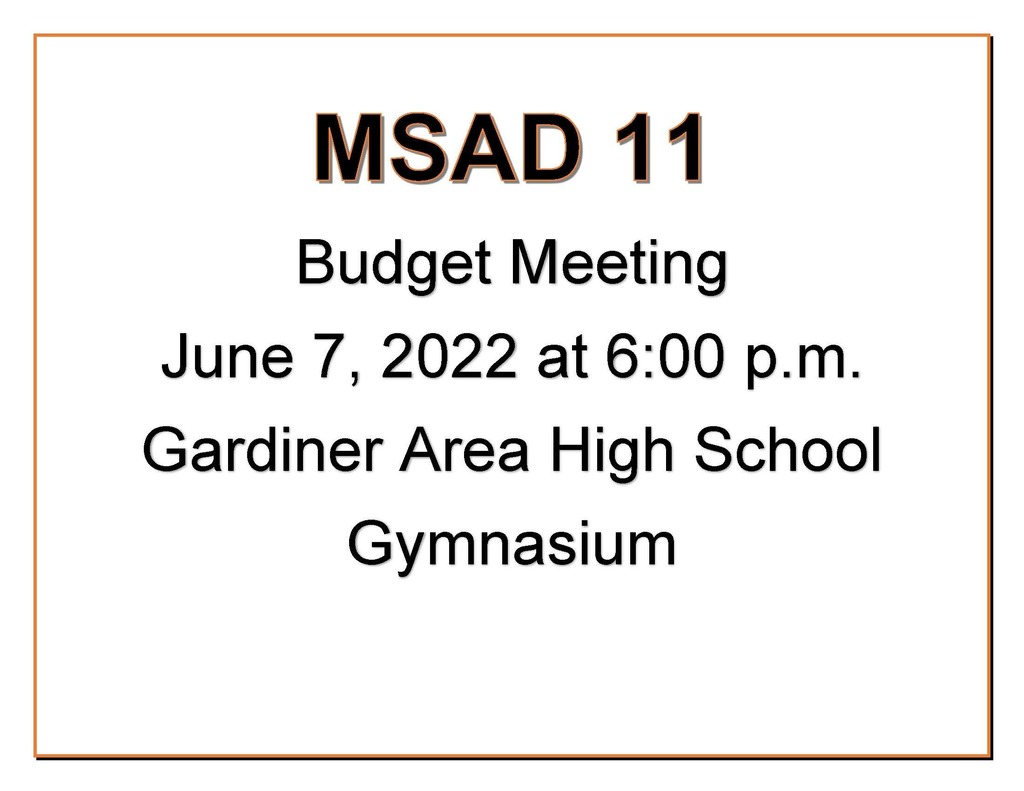 The MSAD 11 telephone system has been repaired and is now operational. Thank you for your patience and understanding.

MSAD 11 is currently experiencing telephone difficulties at this time. If you need to reach us please use email. We will send another notice when the phones are working again. Thank you for your understanding.

Good morning. There is a 2 hour delay and no am pre-k this morning in MSAD11.