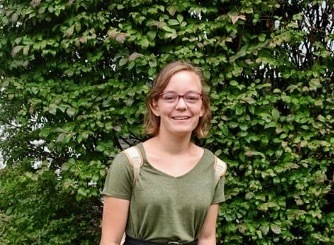 Senior - Emmerson Leach
Musical ensembles that you've performed in at GAHS - Chorus
Number of years in Band and/or Chorus (Elementary through High School) - 2
Instrument(s) you play in Band and/or your vocal part in Chorus - Alto
What are your plans for after high school (college, major, job, etc.)? - I want to major in International Studies and Social Work at a university and then go into the FBI or another organization to combat human trafficking.
What is your favorite piece(s) that you've performed in high school? - Let The River Run and The Jabberwocky because of the jam session we all have together!
What is your favorite musical moment in high school? - Pizazz was really fun and all of the random discussions we have where everyone ends up laughing
How has being involved in the high school music department impacted you? - Being a new student at Gardiner it was difficult to make friends and through the music program I became more acquainted with the people that were in Gardiner and fun things I could do and places I could go to.
What words of wisdom would you share with the underclassmen music students? - Soak in every minute of it and try to do things you otherwise wouldn't because that's how you make the friends you become closest with.
Congratulations, Emmerson! Thank you for your dedication to the chorus and for sharing your musical talents with us for all of these years!!