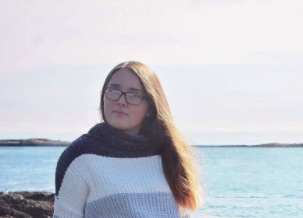 Senior - Haylee Chabot
Musical ensembles that you've performed in at GAHS - Band, Chorus, & Select Choir
Number of years in Band and/or Chorus (Elementary through High School) - Band – 8 years, Chorus – 8 years.
Instrument(s) you play in Band and/or your vocal part in Chorus - Band – Flute, Chorus - Soprano
What are your plans for after high school (college, major, job, etc.)? - I plan on going to nursing school to become a nurse practitioner.
What is your favorite piece(s) that you've performed in high school? - My favorite Band pieces are "Pirates of the Caribbean" and "The Greatest Showman". My absolute favorite singing pieces were "All Star", "Poor Wayfaring Stranger", and "Superstition".
What is your favorite musical moment in high school? - My favorite musical moment has to be when I had a part in the musical, The Wiz. It was the first-ever musical I had been a part of, and it felt like I made new friends and made great experiences.
How has being involved in the high school music department impacted you? - Being involved with the music department has made me feel like I had a second family. Going to the music room was always the brighter part of the school day!
What words of wisdom would you share with the underclassmen music students? - Don't be afraid to let yourself out of your shell a little!
Congratulations, Haylee! Thank you for your dedication to the band and chorus and for sharing your musical talents with us for all of these years!!