No school today in MSAD11, due to road and parking lot conditions. The Central Office will open at 11:00 A.M.

Due to current road conditions, there will be a two-hour delay in MSAD11 schools. There will be no morning pre-kindergarten classes, and the central office will open at 9 am. If a cancellation is determined to be necessary due to road conditions later this morning, a second notice will be sent no later than 7:30 A.M. Please enjoy. your day, and stay safe.

There will be no school in MSAD11 tomorrow due to the incoming weather conditions (1/23/2023). The central office will be closed. Please enjoy your day, and stay safe.

Due to weather conditions, there will be no school in MSAD11 today (1/20/2023). Please enjoy your day, and stay safe.

MSAD11 will have a 2 hour delay to the start of school today. No morning PREK classes will be held. The central office will open at 9:00 a.m. 1/17/2023.

MSAD11 will have a 2 hour delay to the start of school today. No morning PREK classes will be held. 1/5/2023.

THURSDAY, December 22nd is an early release day for students in MSAD11 (teacher workshop). Grades K-5 will dismiss around 12, and GAHS/GRMS around 11. There will be no PREK classes. Please have a happy holiday!

Pat Hopkins, Superintendent of Schools for MSAD 11: One of our graduates, Chase Fossett, recently passed away in a tragic car accident. A vigil has been organized by friends of the family for this Sunday, December 18 at 5 pm on Hoch Field. They have also arranged for a fireworks display to take place on the GAHS Field Hockey Field beginning around 6 pm. Knowing how impactful the noise from fireworks can be for pets, children, the elderly and others, I wanted us to get the word out to help make certain local residents know to take any precautions they believe necessary to ensure the safety of their pets and their entire family. Thank you for your assistance. Best, Pat Hopkins Superintendent of Schools

Pat Hopkins, Superintendent of Schools for MSAD 11: No school in MSAD 11 tomorrow, Friday, Dec. 16th. With student absences ranging between 15 - 26% and district-wide staff absences around 20% coupled with the weather pattern, it makes it difficult to safely run our schools and to provide meaningful instruction. I appreciate your understanding. I apologize for any inconvenience this may cause and hope the early notification is helpful for planning purposes. I hope the extra day will help students and staff get the rest needed to be able to return to school on Monday. Enjoy the snow and Happy Holidays.
Winter Concert
🎄Holiday Bazaar on December 15th in the PRCS library! (Snow day 16th) ⛄ 2-3 gifts per student, donation $1 per gift. Drop new items for the Bazaar at the school or the upcoming craft fair. Pet gifts acceptable as well.🐾
Allison Keaveney Plant Sale Committee Meeting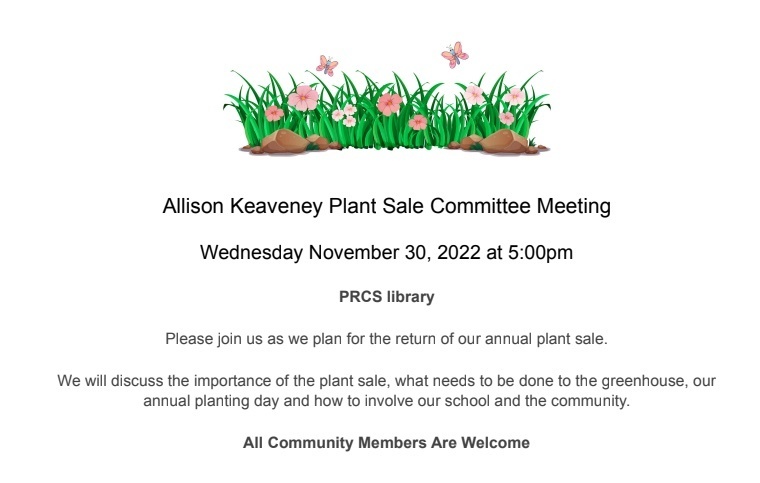 Emergency response letter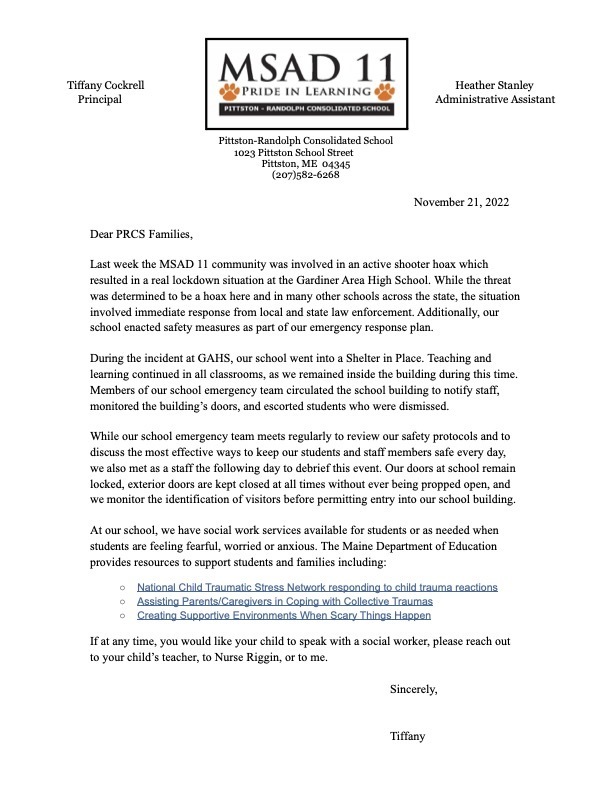 MSAD11 administrators meet with local first responders on a regular basis to discuss confidential elements of our emergency plan. The goal is to strengthen our ability to respond to future emergencies. There have been a few inquiries from the public as to attendance at the workshop this afternoon. The pre-scheduled meeting is for administrators and local law enforcement and is not a public meeting.

Superintendent Patricia Hopkins update from Gardiner Area High School: bit.ly/3gayEbE

This is Pat Hopkins, MSAD 11 Superintendent of Schools with an update on the situation at the Gardiner Area High School. The high school has been thoroughly searched and cleared law enforcement. As a result, the lockdown has been lifted. Today's threat was received by dispatch via a phone call concerning multiple school districts around the state. Multiple law enforcement agencies were on site supporting us and ensuring the safety of all students and staff. Parents who wish to pick up their students to take them home for the day may do so by checking them out of the main office. I commend students and staff for following our emergency plan and doing what they were supposed to do in these type of situations. As additional information presents itself, I will provide all of you with an update, including next steps.

Good afternoon. Today, the MSAD11 notification system will be tested. Text messages, phone calls, and emails will be sent to parent/guardians and staff in all buildings. Please contact the office in your child's school to request phone number and/or email address changes. If you do not have any children in MSAD11, call the central office at (207)582-5346 ext. 1211 to have your information removed.

All phone issues have been repaired, and the system is fully functioning. Thank you for your patience.

MSAD11 is having issues with the phone system in some of our schools, the bus garage, and the central office. If your call is not answered, please leave a detailed voicemail message. An additional notice will be sent when the trouble has been repaired.

Common Sense Media, (commonsensemedia.org), is a website for parents and caregivers to get information on all forms of media to help guide families in what children may be watching or exposed to. There's a "Parent Tips and FAQs" tab and from there you can choose to search "By Age," "By Topic," "By Platform," and "What's New." We urge all parents and caregivers to pay attention to what your children are accessing through their phones, tablets, TV, and streaming sites like Netflix, YouTube, etc.