Field Hockey Practice Monday, Sept. 27 Today's Middle School Field Hockey Practice has been changed from 5:30 to 4:30 at the High School Field (please share)


All MSAD11 school buses will be delayed by 15 minutes today. There has not been an emergency. We are working to get your children home as soon as possible. Thank you.



Please click on the link for an important message from MSAD11 Superintendent Pat Hopkins:
https://bit.ly/2X40wo6

Please click on the link to access the 2021-2022 MSAD11 COVID-19 Handbook for students and families:
https://bit.ly/3tap5eU
Pre-Screening Tool for School Attendance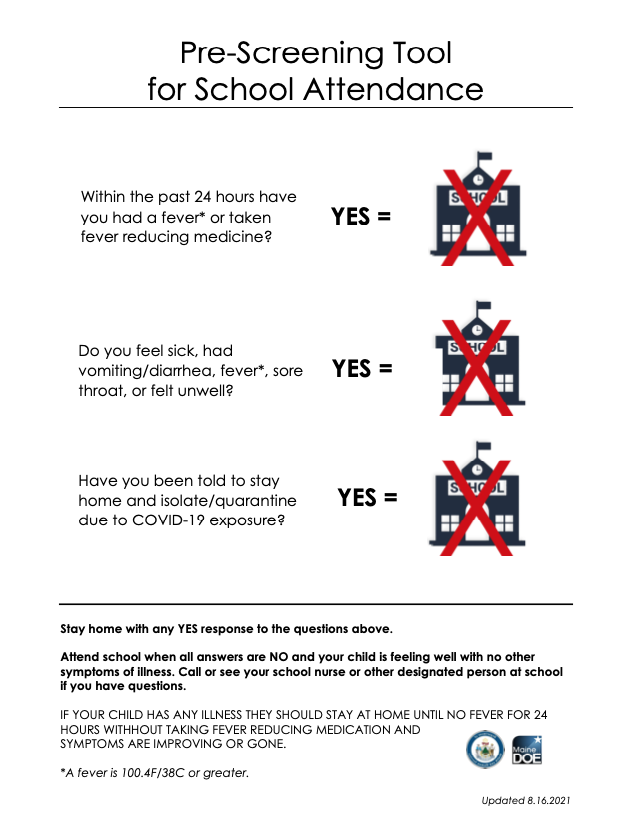 The Tiger Food Pantry will be closed on Monday, September 5, and will reopen on Monday, September 13 from 3:00-6:00 PM.

MSMA Property & Casualty Trust's Student Insurance plan offers $25,000 for Student Accident Medical Insurance protection through AXIS and administered by American Management Advisors (AMA). Who can enroll: Full time registered students K-12 Teachers Administrative and other personnel Coverage options include: 24 Hour Accident Coverage - $50.00 School Time Coverage (includes interscholastic sports – NOT including football) - $11.00 Football – Grade 9 - $150.00 Football – Grades 10-12 - $250.00 Optional Dental - $8.00 Click this link to find the brochure and learn more about highlights, terms and conditions, how to enroll, and the payment process: Click the link to find out more:
https://bit.ly/38vTWca

Please click on the link for an important message from MSAD11 Superintendent Pat Hopkins:
https://bit.ly/3kMuzJ9
PLEASE NOTE: Face Masks are required to enter Gardiner Regional Middle School. Thank you for keeping our community safe.


Homeless Liaison Elisha Morris, Director of Special Services, is the homeless liaison for MSAD #11. It is the responsibility of MSAD #11 to notify the citizens/parents of the district, on an annual basis, that educational services are available to students classified as homeless. If you need further information to determine the rights available to homeless students in our district, please contact Elisha Morris at 582-7366, or your building principal. MSAD #11 CHILD FIND POLICY MSAD #11 seeks to ensure that all children within its jurisdiction are identified, who are school-age five through the school year in which they turn 20 and who are in need of special education and supportive assistance, including homeless children, state wards, state agency clients, students who have been suspended or expelled, children attending private schools, receiving home instruction, children incarcerated in county jails, children who have the equivalent of 10 full days of unexcused absences or seven consecutive school days of unexcused absences during a school year, highly mobile children (including migrant or homeless), and children who are suspected of being disabled and in need of special education and supportive assistance even though they are advancing from grade to grade. MSAD 11 shall provide child find during the first 30 days of the school year or during the first 30 days of enrollment for transfer children. If evidence of child find activities and a statement of the results can be found in a child's cumulative record, or MSAD 11 has reason to believe the child has previously been identified as a child with a disability by another SAU, in state or out of state, child find is not necessary. MSAD #11 is responsible for Child Find for resident students attending private or public schools through public tuition payments or public contract and shall meet this duty either through appropriate arrangements with the receiving school unit or through direct child find services by district personnel or contracted personnel. MSAD #11's Child Find responsibility shall be accomplished through a unit wide process which, while not a definitive or final judgment of a student's capabilities or disability, is a possible indicator of special education needs. Final identification of students with disabilities and programming for such students occurs only after an appropriate evaluation and a determination by the IEP team. This Child Find process shall include obtaining data on each child through multiple measures, direct assessment, and parent information regarding the child's academic and functional performance, gross and fine motor skills, receptive and expressive language skills, vision, hearing and cognitive skills. MSAD #11 may schedule child find activities during its annual kindergarten enrollment to assist in planning for necessary special education and related service at the start of the school year. If screening occurs in the spring prior to school entry, MSAD #11 will refer the child to the regional Child Development Services (CDS) site within 10 school days. If the Child Find process indicates that a student may require special education and supportive services in order to benefit from regular education, the student shall be referred to the Individual Educational Plan (IEP) Team to determine the student's eligibility for special education services. School staff, parents, or agency representatives or other individuals with knowledge of the child may refer children to the IEP team if they believe that the student, because of a disability, may be in need of special education and supportive services in order to benefit from regular education. Such a referral should follow the school unit's pre-referral and referral policy. Legal Reference: 34 C.F.R. § 300.111 (2012); MUSER IV(2) (2017) Adopted: April 7, 1994 Revised: November 4, 2004; May 3, 2007; December 3, 2009; February 4, 2016, February 7, 2019 Please contact your building principal or Elisha Morris, Director of Special Services, at 582-7366.
GRMS Picture Day is Coming! Wednesday, September 8 Order forms will be sent home on the 1st day of school.
GRMS 8th Grade School Supply List
GRMS School Supply List

Please click on the link to access a letter to families from MSAD11 Superintendent Pat Hopkins:
https://bit.ly/3xGLp0q
Hello GRMS Families! As we begin to prepare for the upcoming school year, we wanted to offer August 25th and August 26th as days we will open the school to do tours for our upcoming 6th graders and any new 7th and 8th graders new to our district. We will hold hourly tours on each of these days at 8:00, 9:00, 10:00, and 11:00 am and also at 12:00 and 1:00 pm. If you cannot make one of these days or times, our guidance counselors or administration are willing to set up a time just for you and your student(s) to ensure they feel prepared to start on September 1st in their new building. Please feel free to reach out to us with any questions you might have and we look forward to seeing so many of our new students! Please bring a mask along with you so we can ensure all can participate based on the current recommendations on masking at that time.